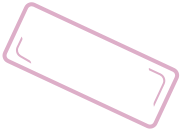 Usage & Instructions
Children's Use:
School or Creche wear (Iron-on Labels)
Sportswear (Iron-on Labels)
Shoes (Shoe Labels)
Lunchboxes (Name Labels)
Toys (Name Labels)
Books (Address Labels)
Bags (Address Labels)
Bottles (Name Labels)
Pencils/Pens(Pencil Labels)
Portable gaming and music devices (iPods, MP3 Players, PSP, Nintendo DS etc) (Name Labels)
Adult Use:
Clothing (Large Iron-on Labels)
Sports gear and equipment (Name Labels)
Laptops (Name Labels)
Portable gaming and music devices (Name Labels)
Books (Address Labels)
DVD's and CD's (Pencil Labels)
Envelopes (Mini-Address Labels)
Label Application Instructions
Instructions for Iron on Labels
(The Iron-On labels have a clear backing paper)
Remove a label from the clear backing paper.
Place the Label print side up onto the garment and place the blue protective sheet on top of the label texture side down (side with X down).
Press down on the label with a hot iron NO STEAM for 15 seconds, applying a good amount of pressure.
Allow garment to COOL completely before peeling off the Blue Sheet.
Note: The blue application sheet is re-usable.
Cookies:
This website uses "cookie" technology. A cookie is a little piece of text stored by the browser on your computer, at the request of our server. We may use cookies to deliver content specific to your interests and to save your personal preferences so you do not have to re-enter them each time you connect to our website – our cookies are not available to other websites. Our cookies will record the following: login details. You are always free to decline our cookies, if your browser permits, or to ask your browser to indicate when a cookie is being sent. You can also delete cookie files from your computer at your discretion. Note that if you decline our cookies or ask for notification each time a cookie is being sent, this may affect your ease of use of this website.
Personal Data:
We will process any Personal Data you provide to us for the following purposes:
(a) to provide you with the goods or services you have ordered;
(b) to contact you if required in connection with your order or to respond to any communications you might send to us.
(c) to send out email newsletters or details of new products or promotions. Promotions are only sent to those on our Email List, you will be given the option of being excluded from the list.